Android Application Development
Android is a powerful operating system. Most of the smart phone and tablets in market runs on android operating system. DRC Infotech has a expert team of android application developers, who have developed a lot of application associated with adroid.
Benefits of android operating system
Android is getting more popularity due to certain advantages that it provides are:
Open source mobile operating system
It can run multiple application at a same time
Fast development
Google and Social integration
Show of information on screen
Media Support
Flexibility
Integrated browser
IPhone Application Development
iPhone is an ideal platform to develop all sorts of mobile applications that supports to make flexible and user friendly apps. DRC Infotech's iPhone application development service addresses the needs of various fields like business, entertainment, social networking, shopping, navigation, browsing and much more. We have right skills to develop innovative iPhone Apps to enhance user experience and satisfy business needs. Our iPhone developers have proven expertise in delivering high quality applications that look attractive, function flawlessly and enthrall the users.
iPhone service offerings at DRC Infotech:
Better customer service with satisfaction
Awareness of business products and service with apps
Creating brand recognition
SQLite
Increase business profit and sales
Open communication channel
Enhanced user experience
Increase business profit and sales
Customized application exclusively based on requirements
Smart applications with enhanced user-experience
Authentic approach towards niche marketplace
We are keen for Smartphones and choose to create apps which can make Smartphones really Smart, easy to use, productive and fun. The statistic shows that the demand of mobile application and smartphones are spreading faster compared to personal computer sales. This is why, we have trained not only in Web Design and development but also Mobile Website Design, Mobile Website Optimizer and Mobile Applications. DRC Infotech is a best mobile app Designing and Development company offering Mobile Application Design and Development services for android, iPhone, and iPad. Our team of mobile app developers is creative and on the ball to perform your individual demands as well as your business needs. With highly developed tools and technology, our mobile application experts are able to create highly customized mobile applications for customer needs and enterprises. Our expertise and past work are the showcases of our brilliance in mobile applications development. Our application development goes within a complete process of developing, testing, Beta release, and Final release.
Mobile Application Services includes
Why make a mobile app?
Mobile only internet community has increased by more than 750 million people in the current 5 years
In 2016, the mobile-only population is anticipated to be approx 788 million
86-90% of the time employed on mobile is through on apps
Gaming and Social Networking account for more than 60-70% of time spent on mobile apps.
Of all ad income through mobile is more than 25-30% is for apps extra than Google or Facebook.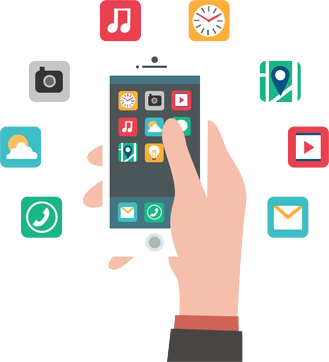 We are expert in the tracking of Mobile Application Development Industries like
Location, Map and Navigation
Mobile Apps Development Services We Offer
Android App Development
Android operating system is extensively used due to its elegant and moneyed applications. Our team of skilled full developers is acquainted in app development for Android phones and tablets. We renovate in generous Android Application Development services for your big business or customer app demands.
iPhone App Development
Our acknowledged iPhone application developers are well outfitted in iOS technological advancements. Our team of developers stay updated with modern versions and newly started devices of iOS. With Use iPhone SDK our mobile app experts build conventional iPhone application as a piece of our services.
iPad App Development
We are skilled in iOS development and well prepared in presenting best extensible iPad apps to our clients. From the incipience, we have been prompt in traversing iPad apps with the best outcomes. We have proficiency in structuring customized iPad application for all areas that users love.
Why Do You Choose Us?
Team of Skilled and Qualified developers
In-Depth perceptive of frameworks and most modern mobile technologies.
On – demand capability to work in the tight deadlines
Quality oriented work procedure
well-timed delivery and cost valuable services
Known for developing high quality and robust mobile apps